Olivier Giroud Eager To Clash With Former Club Arsenal
By
mac14
on July 21, 2020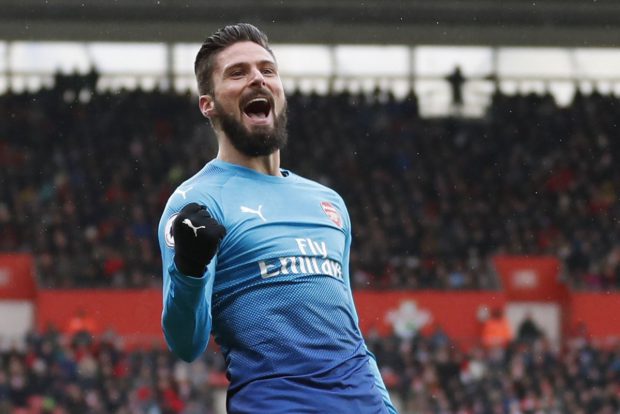 Chelsea striker Olivier Giroud has openly expressed his eagerness to face-off against former club Arsenal and beat them at Wembley in the FA Cup final.
The Blues booked their place in the final after beating Manchester United 3-1 at Wembley on Sunday evening, with Giroud opening the scoring. The Gunners, on the other hand, secured a place in the FA Cup after beating Manchester City 2-0 in an intense match that was ultimately settled by two fine goals from Pierre-Emerick Aubameyang.
Since this is the finals, you can expect bookies to go crazy when it comes to the odds. As many factors are affecting the odds and predictions, it can sometimes prove to be tricky to present odds that both reflect the reality of the probabilities all the while making sure that bookies still earn money from the bets. In this case, one of the Chelsea players has played for Arsenal and has expressed his eagerness to beat his former club. Like it or not, this is set to affect the odds for Chelsea – but will it put them to an advantage when it comes to predictions, or at a disadvantage?
In matches as big and grand as the upcoming FA Cup final, you want to make sure that you are betting through the best bookmakers only. Since most bookies operate individually, each bookie can have different odds that you can bet on – some may give you a bigger profit, while some may yield less winnings. No matter the case, good review sites like Nostrabet can help you find the best bookmakers for you. You can read reviews, tips, and bookie recommendations on this website.
Giroud is no stranger when it comes to FA Cup finals as he's already won the trophy on four separate occasions during his time in England. The Frenchman won three FA Cup's with Arsenal and he added a fourth during his first season with Chelsea in 2018. Now, he intends to add another FA Cup to that record, and this time by beating his former team at Wembley.
"I said to the boys I would love to win another one, it would be my fifth FA Cup and we are in another final," Giroud said. "A big game against Arsenal which will be so special for me personally. We played very well and we want to finish in the top three in the Premier League now."
"You always want to turn up in big games and I thought we did that today. We came in with extra motivation and it will be a massive final for us – we want to win trophies."

"The gaffer just said we've got two massive finals before we're here again. We need that mindset to try and secure the top four."
The FA Cup final will take place on August 1, 2020. While fans are still not allowed to watch the matches live at the stadium, the game will be streamed on TV, online, and in mobile devices through streaming apps where available. Manchester City, after the defeat by Arsenal, is expected to shift its focus on its upcoming matches for the Champions League. One the other hand, Manchester United is expected to take advantage of the fact that they can now focus on the league to ensure they finish in the top four and qualify for the Champions League next season.