Xhaka removes Arsenal photo from Insta after refusing to apologise for fan bust-up
By
mac14
on October 29, 2019
Granit Xhaka has deepened his rift with fans after removing his Arsenal photo on Instagram and refusing to apologise for his disgraceful behaviour on Sunday afternoon.
Unless you've been living on the moon for the last 48 hours, you'll know Xhaka was involved in an ugly bust-up with the Emirates crowd at the weekend. The midfielder reacted to mild jeers when it was indicated he was being substituted by throwing the captains armband towards Pierre-Emerick Aubameyang and walking slowly towards the touchline.
Arsenal were drawing 2-2 with Crystal Palace with 30 minutes to go, so you'd expect your captain to run off the pitch to get the game restarted asap. But not Granit, who sulked like a child, so the jeers turned to loud boos from the supporters and Xhaka responded by throwing his arms around, cupping his ears and mouthing 'f**k off' to the supporters before throwing his shirt to the floor and storming down the tunnel.
It was disgusting behaviour from Arsenal's so-called captain and Emery admitted after the game his skipper was in the wrong, so we all waited for the apology to come from Xhaka. There was nothing after the game, silence on Monday and now it's reported in the papers that Xhaka is refusing to issue a public apology.
Emery admitted as much in his press conference this afternoon after saying Xhaka is too 'devastated' to say sorry. The boss says Xhaka knows the fans don't like him so he's basically acting like a child again by refusing to own up to his overreaction on Sunday. 'They don't like me so f*** em' seems to be his attitude. Not exactly what you'd expect from an Arsenal captain.
To compound matters, Xhaka has changed his Instagram profile picture this afternoon from one of him wearing an Arsenal shirt to one of him in his Switzerland shirt. See the old and new pictures below: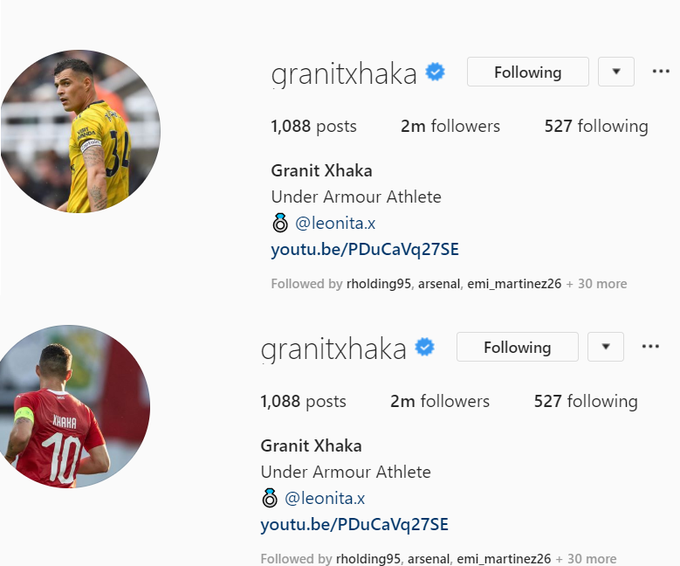 This is such a childish response from Xhaka and shows exactly why he should NEVER have been named captain in the first place. He was totally at fault on Sunday. He let his frustrations get the better of him and reacted badly to what started off as a few jeers. Something every player has to deal with at some point.
He could have settled the situation by issuing an immediate apology after the game but it looks like he's going to drag this out and I really don't see a way back for him at Arsenal now. He should certainly have the captains armband taken off him, but it seems Emery isn't strong enough to do that either as the boss is reportedly going to ask the players what they think and let them make the decision. And some reports suggest the majority of the squad is behind Xhaka so the situation is a total mess.
It needs a strong manager to deal with it, but sadly Arsenal have a weak boss in Unai Emery and he should take his share of blame for all of this. It was Emery who created a lot of the hate against Xhaka by constantly picking him even when his form has been so poor, constantly overlooking Lucas Torreira in the holding role and then he topped it off by giving Xhaka the armband. Awful management all round.
Xhaka won't feature against Liverpool in the Carabao Cup tomorrow night but it will be interesting to see if he'll be involved against Wolves at the Emirates on Saturday….