[Video] Mustafi risks injuring Aubameyang with reckless studs-up tackle in training
By
mac14
on April 27, 2019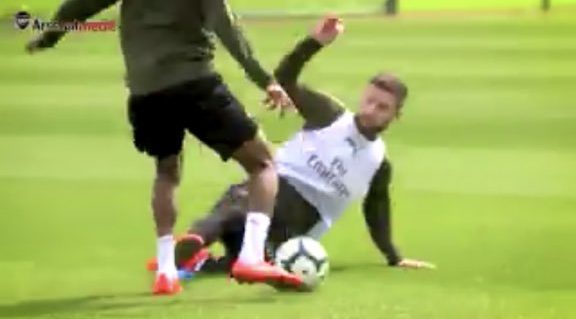 We all know Shkdoran Mustafi is prone to brainless moments during games and it's cost Arsenal plenty of points over the past few seasons. Only last week his shambolic 'defending' allowed Wilfried Zaha to restore Crystal Palace's lead en route to a costly 3-2 defeat at the Emirates.
However, it appears the German defender also has his brain farts in training as footage from Friday's training session shows Mustafi going in hard on Aubameyang with a high, studs-up challenge.
The official Arsenal Twitter account shared a video of yesterday's session at London Colney and it showed the players going through drills and playing some practice matches.
Lucas Torreira is seen popping the ball about nicely, Eddie Nketiah and Henrikh Mkhitaryan looked to be in good form with some nice touches, Pierre-Emerick Aubameyang scored some lovely goals and even Mohamed Elneny got in on the act.
However, the moment that really stood out came when Mustafi was seen flying into a reckless tackle on Aubameyang with his studs showing. You can watch the full video below, with the Mustafi tackle coming after about 50 seconds.
Putting the work in at Arsenal Training Centre #LEIARS pic.twitter.com/DXk6dG4CUo

— Arsenal FC (@Arsenal) April 26, 2019
Obviously players need to take training serious in order to prepare for games but there is no need for Mustafi to be going in like that on his team-mate. It's reckless and Aubameyang could easily have picked up a serious injury.
Fortunately, the striker was able to jump out of the way before Mustafi made contact but this is precisely the type of tackle that has made the German defender a liability. He goes to ground WAY too easily and he gives away far too many silly free-kicks as a result.
It's infuriating to watch in matches and it's cost us goals but I'd have been just as annoyed if Mustafi had ended Aubameyang's season with one of his dangerous tackles in training. He needs to cut it out asap.
The good news is Auba is fine and he's expected to return to the squad against Leicester City on Sunday after recovering from a minor sinus issue that saw him miss Wednesday's defeat to Wolves.