[Video] '****** rubbish' – Arsenal players abused by their own fans at airport
By
mac14
on March 8, 2019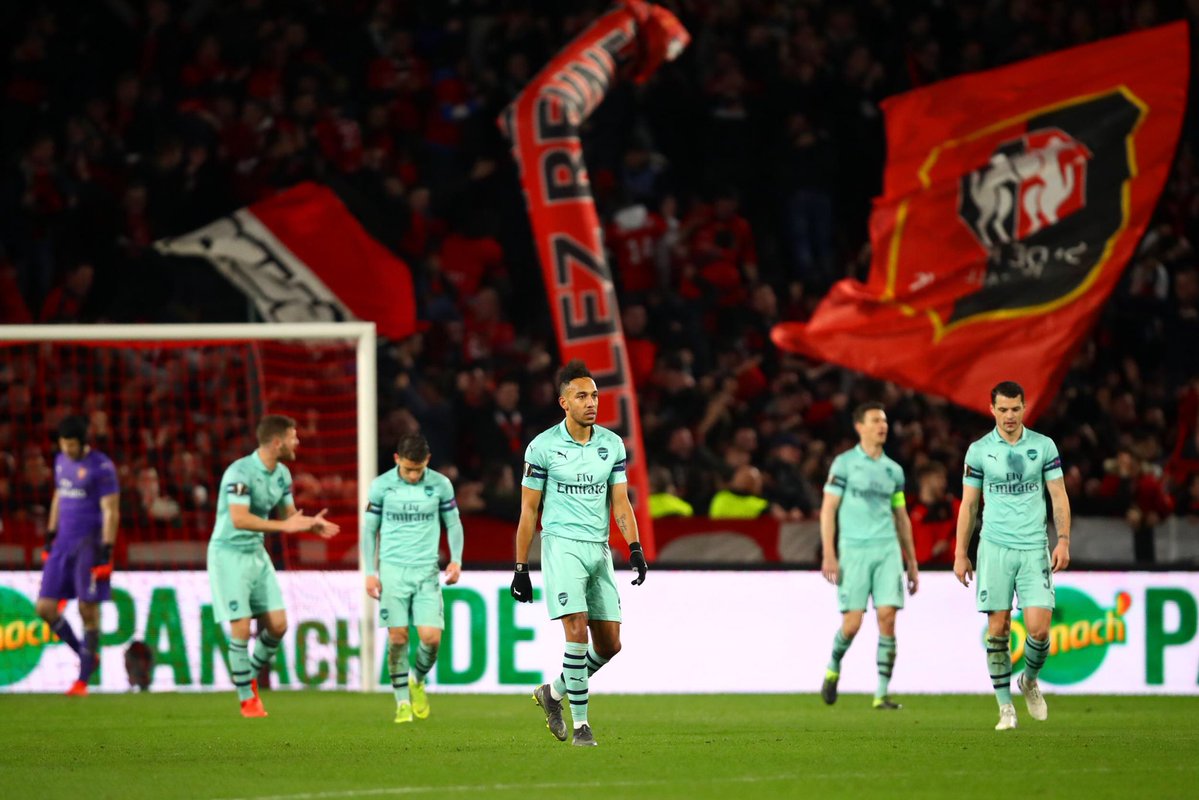 A video has emerged showing the Arsenal players being verbally abused by their own fans at the airport following our disappointing 3-1 defeat to Rennes last night.
It looked like Arsenal were going to make light work of Rennes after Alex Iwobi scored an early – albeit fortunate – opening goal in the first leg of our Europa League last-16 tie on Thursday evening.
However, we totally fell apart after Sokratis was sent off for two quick bookings just before half-time. Rennes equalised from the resulting free-kick to make it 1-1 before taking the lead thanks to a Nacho Monreal own goal midway through the second half.
A 2-1 defeat wouldn't have been the worse result given the circumstances but instead of sitting back to see out the final few minutes, Arsenal continued to attack and we left ourselves wide open to a devastating counter-attack that led to Rennes scoring a late third and taking control of the tie.
Understandably, supporters were extremely disappointed with the result and how the Arsenal players coped after going down to ten men but it seems some so-called 'fans' let their frustrations get the better of them.
A video has been uploaded to social media showing fans abusing the players as they made their way through the airport en route back to north London.
Shouts of 'f***ing rubbish" and "be injured forever you c**t" were directed at the squad while another supporter demanded the players went over to face them after the disappointing defeat. Watch it here:
Arsenal players getting abused on the way to their flight home from Rennes ? pic.twitter.com/oDWRekA1Rh

— Lee Wilkinson (@wilko_6) March 8, 2019
I get that fans are disappointed but we really do let ourselves down when we resort to this sort of thing. It's no good saying 'they get paid millions so should be able to take some abuse when we lose' as how much they earn is irrelevant.
We need to remember they are just men who're good at football. They tried their best and we fell short last night, but the most important thing is that abusing players in public like this serves no positive purpose for Arsenal F.C.
Do these fans think that by launching abuse at them the players will play BETTER against Man Utd on Sunday? That they'll feel closer to the supporters and want to turn things around in the second leg to make them happy? No. The chances are the abuse will have the opposite affect.
I'd like to say let's try and cut this rubbish out, but there will always be a group of fans who think it's okay to abuse the players and manager – and it happens at every club – but I really do find it all rather embarrassing.