'Give him the Ballon d'Or', 'superb' – Some fans praise Arsenal star after Wolves game
By
mac14
on November 12, 2018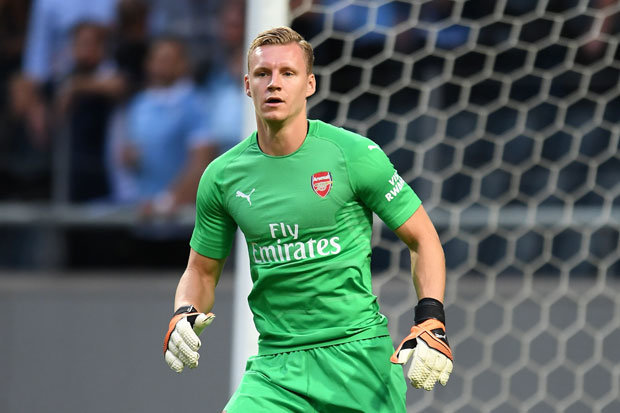 Sunday's 1-1 draw with Wolves was hugely disappointing but if there was one positive to take from the game it was the performance of Arsenal goalkeeper Bernd Leno.
The German had to be patient for his chance at the No.1 shirt since arriving from Bayer Leverkusen in the summer as Unai Emery initially stuck with Petr Cech between the sticks at the start of the season.
However, an injury to the 36-year-old last month opened the door for Leno and it's safe to say he's taken his opportunity with both hands after putting in a string of impressive performances in recent weeks.
Arsenal's outfield players were all below par on Sunday as we toiled to a rather lucky 1-1 draw against Wolves but Leno was excellent as he produced a Man of the Match performance to maintain our 16-match unbeaten run.
Wolves took the lead in the 13th minute and they could have been out of sight had it not been for Leno's brilliance between the sticks as he kept us in the game with some fine stops and his hard work paid off as Henrikh Mkhitaryan came off the bench to score an 86th minute equaliser.
Fans hoped we'd push on to find a late winner but it was Wolves who could have won it as they had two great chances in injury time, but once again Leno produced the goods to salvage a point.
His performance didn't go unnoticed as many fans have taken to social media to praise the German stopper with one supporter suggesting he's given the Ballon d'Or now. [He spelled it wrong but we got the idea!].
Other fans hailed Leno as 'superb', 'fantastic' and 'phenomenal' following his display against Wolves so it looks like he's won over the supporters and we have a safe pair of hands between the sticks for years to come.
Here is what some fans have been saying about Leno:
Give Leno the Baldon D'or already.

— LTArsenal™ (@ltarsenal) November 11, 2018
Leno has been superb today.

— Charles Watts (@charles_watts) November 11, 2018
Bernd Leno has saved Arsenal more than once tonight. Incredible goalkeeper and signing

— Don Draper (@arsenalbarclays) November 11, 2018
Leno had a brilliant game. Great to have a keeper who can keep us in a game.

— Le Grove (@LeGrove) November 11, 2018
Tough match against Wolves today. Bernd Leno was brilliant. Well done to Henrikh Mkhitaryan for coming of the bench to earn us a point. #AFCvWWFC #ArmisticeDay100 pic.twitter.com/sFA5QXsdgb

— David Price (@priceyd101) November 11, 2018
Disappointing result, but at least we kept the unbeaten streak going. Leno's contribution massive – we lose without him.

— gunnerblog (@gunnerblog) November 11, 2018
Awful performance that needs to act as a wake up call. Realistically, a draw is not a fair reflection of the game. Hats off to Leno who singlehandedly kept us in the game. He did himself proud today, the others need to recharge and make sure to put things right vs Bournemouth.

— Patrick Timmons (@PatrickTimmons1) November 11, 2018
Live scenes of Bernd Leno pic.twitter.com/QLtqTJgfw7

— Lacazettes (@Lacazettes) November 11, 2018
Leno has been fantastic today.

— Terje (@ArsenalTerje) November 11, 2018
@Bernd_Leno was an absolute brick wall in goal yesterday hes calm a good shot stopper excellent distribution and also very vocal to the defence 💯 @Arsenal number 1 goalkeeper and an absolute bargain compared to the prices other goalkeepers have gone of late #COYG #Arsenal #afc pic.twitter.com/SmI6kll2sA

— GoonerMartin🔴⚪AFC (@GUNNERFORCE15) November 12, 2018
Really impressed by Leno today. Without him, we lose that.

Especially considering that shot-stopping was one of his apparent weaknesses.

Still not convinced by him aerially, but modern-day football is such that his calmness on the ball helps offset this.

— Squid Boy (@TheSquidBoyLike) November 11, 2018
Leno was class and auba give you a massive let off

— TILT (@Tilt_91) November 12, 2018
Credit to Leno for that goal: he's made some incredible saves to keep Arsenal in this match.

— 7amkickoff (@7amkickoff) November 11, 2018
Bend Leno is underrated it's mental.
He was phenomenal today. @Bernd_Leno #HeyLeno pic.twitter.com/W1Knl70Vtm

— TommyAFC01 (@TommyAFC01) November 11, 2018