[Photos] Images of Arsenal's 2017/18 home/away kits leaked online
By
mac14
on February 23, 2017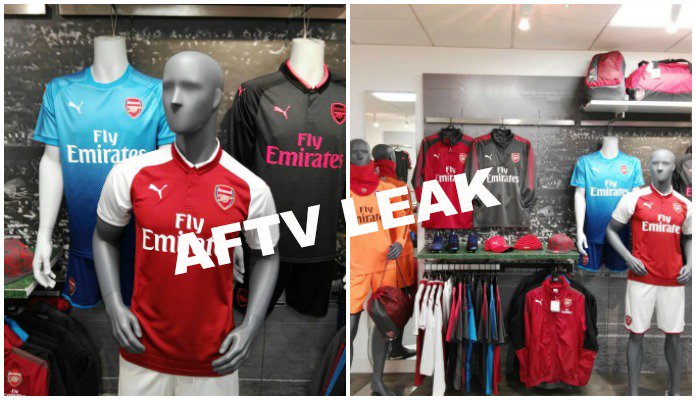 It's that time of year again when we start to see images of next season's kits 'leaked' online and a few snaps of Arsenal's supposed shirts have appeared over the past 24 hours.
The home kit dons a red body with white arms/shoulders but the real detail is around the collar as it looks like Puma have gone with two-tone red/white.
The shorts are white with red trim along the bottom. The design of the kit looks pretty basic but I actually really like it.
In the 'leaked' photo of the kits – which appear to be being sold in a shop in an undisclosed location [almost certainly abroad] – there is also a blue kit which is likely to be our away number.
I'm not so keen on that kit to be honest. The fading from light to dark blue is a bit much. However, the black/grey goalkeeper kit looks pretty decent. Although I'm not sold on the pink detailing.
We can not verify if these kits are accurate or just mock-ups but they are causing plenty of debate among fans on social media.
Here is a closer look at the home kit courtesy of footyheadlines.