[Image] Arsenal fans unite to protest using this banner on Saturday
By
mac14
on April 26, 2016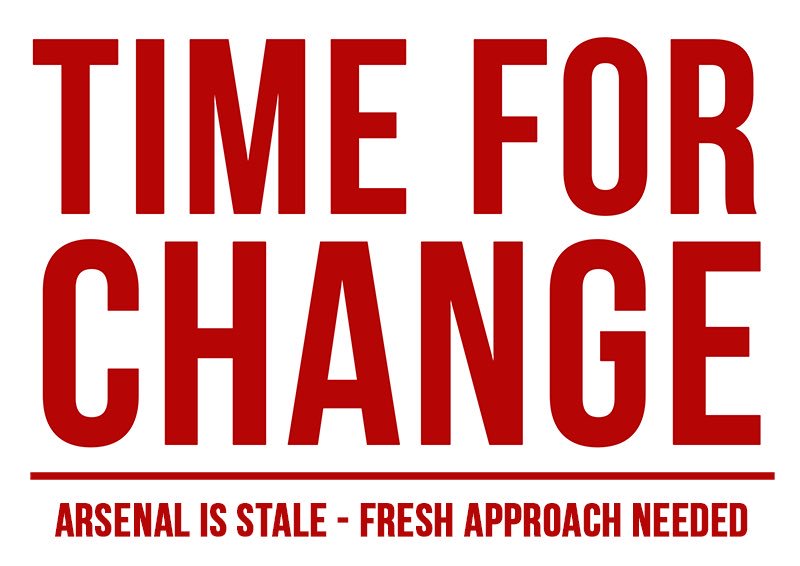 Arsenal fan groups have united as one to plan a co-ordinated protest using the above banner during Saturday's Premier League clash with Norwich City.
The Black Scarf Movement, REDaction and the Arsenal Supporters Trust have all joined forces to urge supporters to hold up banners reading "Time for Change. Arsenal is stale – fresh approach needed" this weekend.
The banners will be held aloft during the 12th minute and the 78th minute in recognition of our 12-year wait for a Premier League title while they will also be held up again at full time, no matter what the score in the game.
It's interesting that this latest protest is not specifically aimed at Arsene Wenger, unlike previous banner protests we've seen this season, and I think it's a wise move.
Fans are divided over whether Wenger is still the right man to take us forward, but few fans argue that change is needed at the club in some form, with most agreeing that Stan Kronke needs to be held more accountable.
This season has been like groundhog day for Arsenal fans as we've fallen away during the business end of the season having crashed out of the Champions League at the last-16 stage. It's just this year, there is no FA Cup trophy to paper over the cracks.
With the club now in a fight to keep hold of it's top four position during the final three games of the season, some feel now still isn't the right time to protest. But realistically, when will there be a good time?
Fans need to make a stand and Saturday's game will ensure decent coverage as the match will be shown live on Sky Sports.
Will it make any difference? Well, you'd like to think the powers that be at the club would take notice if the protest is strong enough, but I'm sure I'm not the only one who has doubts.
Silent Stan will probably turn a blind eye like he has done throughout his entire time at the club….