Arsenal legend claims this is why Arsenal aren't top of the table
By
mac14
on April 15, 2016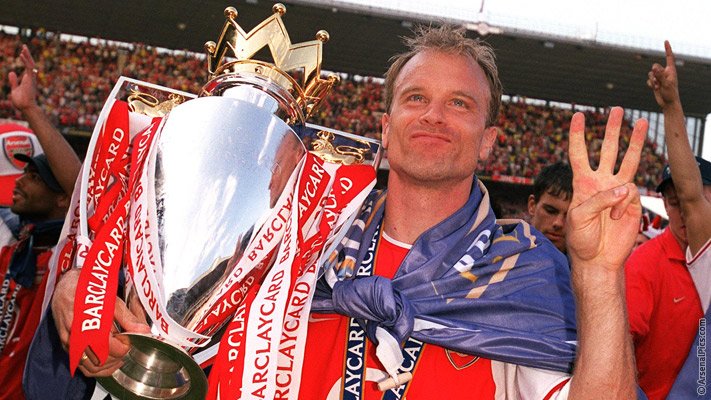 Arsenal legend Dennis Bergkamp claims that our poor defence is the reason that we've fallen behind Tottenham and Leicester City in the title race this season.
After an encouraging first half to the season, a disastrous start to 2016 has seen us slip 13 points behind leaders Leicester with just six games left to play.
Arsene Wenger suggested at his press conference this morning that we were still in the title race but I think he's in a very small minority who feel we can turn things around at this stage of the season.
Fans have been left scratching their heads wondering just how we've managed to throw away our best chance at winning the title in over a decade, but legendary striker Dennis Bergkamp thinks he's got the answer.
The Iceman says that with Chelsea, Man City and Man Utd all off the pace, it's 'ridiculous' that Arsenal aren't top of the table as he believes we have the players needed to win the title.
However, Bergkamp has identified defence as our biggest problem as he rightly feels there have been too many times this season when we've had to come from behind.
He told the Daily Mail:
"When you start a season you think, 'OK, if we can stay on top of Man City, Man United and Chelsea, we will win the league'. Now there are two other teams in front of Arsenal. It's ridiculous.

"Arsenal have a really good team and a really, really good squad. They've got tremendous players and they should be able to win the championship, but one of the biggest problems is defence.

"So many times the team have to react to going a goal behind or two goals behind. That happens too much. And at this time of the year you can't drop points."
Bergkamp won four titles during his time with Arsenal so he certainly knows what he's talking about and while I do think that we've lacked a clinical striker at times in recent years, it's difficult to argue that defence has let us down time and again.
That's not to say it's down to individuals all the time. I actually think it's down to the way we're set-up and the philosophy instilled in the players that it's attack first, defence second.
Until this attitude changes, I fear we're never going to go all the way to win the title again. We need to find the right balance and unfortunately we leave ourselves far too open at the back these days.