Journo: Benzema To Arrive At Arsenal On Sunday, Will Wear No.9 Shirt
By
mac14
on August 7, 2015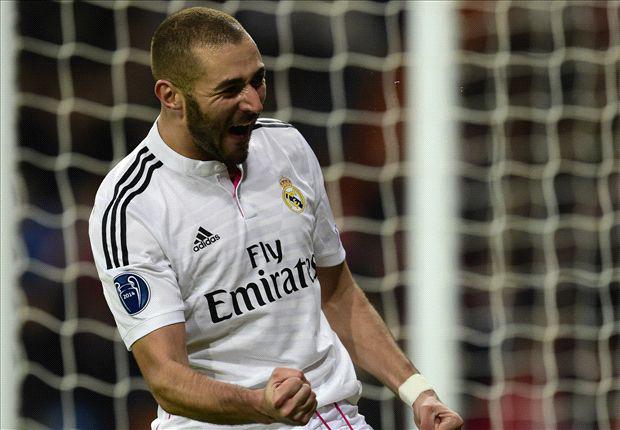 We've had yet another update from our favourite journalist with Emanuele Giulianeli claiming that today's meeting between Arsenal and Real Madrid went well and Karim Benzema is due to arrive in London on Sunday.
Giulianeli claimed earlier this week that Arsenal chiefs would arrive in Spain on Friday to hold formal talks with Madrid and put forward an official €50m offer agreeing personal terms with Benzema over a four-year deal worth €9m-per-season.
The Italian journalist has now updated his Twitter followers – which are rising by the hour thanks to his apparent inside scoops – this evening to say that today's meeting went well and a deal is understood to be close.
He went on to claim that the French international striker will arrive in London on Sunday – presumably to complete his move to Arsenal – and will wear the No.9 shirt at the Emirates this season.
Here are the Tweets:
Today's meeting ok between Arsenal and Real. Deal almost closed, Benzema will arrive to London on Sunday.

— Emanuele Giulianelli (@EmaGiulianelli) August 7, 2015
Benzema will have shirt number 9 at Arsenal.

— Emanuele Giulianelli (@EmaGiulianelli) August 7, 2015
The journalists sensational claims are starting to get picked up by the British media but it's almost impossible to know if there is any truth behind it all.
Giulianeli does work for the likes of La Gazzetta dello Sport, FIFA Weekly and FourFourTwo so you'd think he has a certain amount of credibility but these reports appear too good to be true.
This fella is either going to become an absolute legend if we end up signing Benzema, or the focus of some serious Twitter bashing from angry Gooners if the deal fails to come to fruition.
Obviously I'm hoping Giulianeli's information is solid but I'm not going to get too excited just yet and will reserve my judgement until something more concrete comes out.
We've seen too many so-called 'In The Knows' make bold statements only for nothing to come of it, but the Benzema-to-Arsenal rumours are steadily intensifying by the day.
As I've said before, I think Arsene Wenger is pretty confident he'll manage to sign the striker this summer, despite his public denials. We should all know by now not to believe a word he tells the media!
Stay tuned for more updates, I'm sure it won't be long until another 'development' occurs…..