Arsenal Table £32m Bid For Prolific Striker – Reports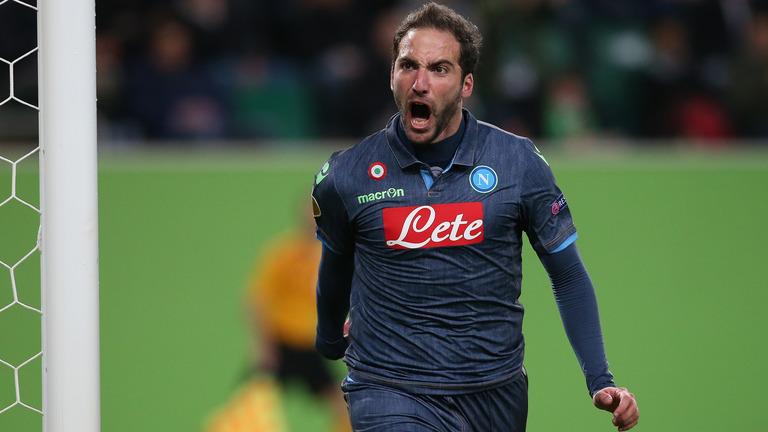 The rumours linking Gonzalo Higuain to Arsenal continue to intensify with Italian journalist Tancredi Palmeri claiming this evening that we've tabled a €45m offer for the striker.
Higuain is a name that's long been linked with a move to Arsenal and we reportedly came close to signing him when he left Real Madrid in 2013 before he eventually headed to Napoli.
The Argentinean international has continued to showcase his talents in front of goal in Serie A with the prolific hitman netting 53 goals in 102 games.
However, with Napoli failing to qualify for the Champions League this season, the papers have claimed he wants out and the Express reported earlier this week that Higuain has asked to leave this summer.
This led to talk of a move to Arsenal and it appears Arsene Wenger may have made his move as well known Italian journalist Tancredi Palmeri – who works for Gazzetta dello Sports and beIN Sports among others – claims that we've tabled a €45m (£32m) bid for the striker.
Arsenal have made a 45m€ offer for Higuain

— Tancredi Palmeri (@tancredipalmeri) July 8, 2015
Who knows how much truth there is behind this claim but it comes at a time when there have been various rumours flying around in the press suggesting we either have or were about to submit an offer, so there could be something in this.
Former Napoli player and now agent, Jose Alberti, also claimed last month that he was 90% sure Higuain would join Arsenal this summer – although it's not clear if this was just a guess or if he had inside knowledge.
"Mourinho didn't play him, so I don't think he would go to Chelsea.

''In my opinion, I'm 90% sure he will go to Arsenal. It could earn be a minimum of €5million.

''It is not possible that a player like him wants to remain at Napoli this year after missing out on the Champions League.'' Alberti was quoted as saying by Calcio Napoli24
I'd personally love to see Higuain come to Arsenal as he's a top class goalscorer who is an upgrade on Giroud and he'd give us another real threat in the final third next year.
Benzema or Lacazette would be up there among my preferred options, but Higuain wouldn't be too far behind but I wouldn't like to see us go much higher than this supposed £32m bid.
Let's see how this develops but Higuain could be the man to fire us to the title next season….here's dreaming!