Journo: Wenger To Leave In 2016 & Wants This Man To Replace Him
By
mac14
on April 29, 2015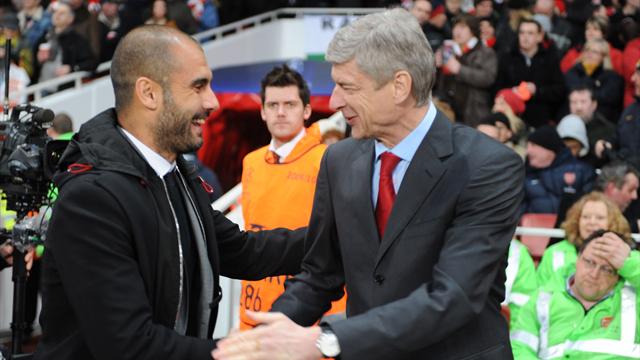 French journalist Julien Laurens claims that Arsene Wenger and Ivan Gazidis both want Pep Guardiola to take over at Arsenal and it could happen as soon as 2016.
Laurens was a quest speaker at Monday's AST meeting and he made the sensational claim that Arsene wants to leave the club after 20 years – which would be at the end of the 2015/16 season – and plans to exit after winning the Premier League title.
The boss still has two years left to run on his contract, so if this claim is true, then it appears he wants to leave early on a high note but it may also have something to do with a certain Spaniard's situation….
Laurens also claims that Arsene, and Ivan, want Pep Guardiola to be Arsenal's next manager and guess what….his contract expires at the end of next season.
So it seems the 'dream' scenario is Arsene guides Arsenal to the title next season and makes way for Guardiola when his contract at Bayern Munich expires in the summer of 2016.
I'm sure I'm not the only Arsenal fan who would absolutely love this 'dream' to become a reality. Obviously we'd all love to see Arsenal lift the title next season and it would also be a fitting way for Arsene to end his tenure here, but to get Guardiola in as a replacement would be the icing on the delicious cake.
The Spaniard is widely regarded as the best coach in the world right now and he'd fit in perfectly with our style of play. Whether we can lure him to the Emirates is another story but I hope we give it a good go.
Even if we can't land Guardiola, it's good to hear that the club are thinking ahead for when Arsene does eventually leave as the last thing we want is to be caught short.
Would you like Guardiola to replace Arsene in 2016?
JL closes by saying that both Arsène Wenger & Ivan Gazidis want Pep Guardiola to manage Arsenal in future. He is 'the dream.'

— FK² (@fkhanage) April 27, 2015