Photo: Proof Mesut Ozil Is Out-Performing Coutinho, Mata & Oscar
By
mac14
on March 7, 2015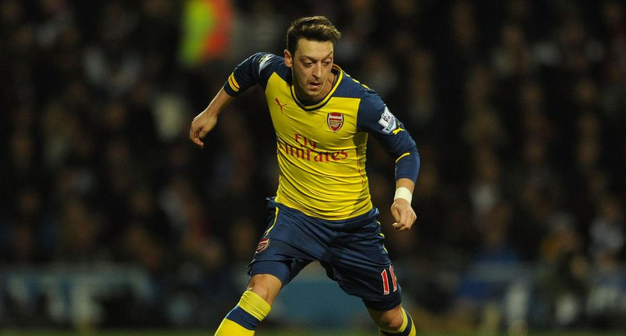 This graphic proves that under-fire Arsenal star Mesut Ozil is actually out-performing many of his main rivals from the likes of Chelsea, Man Utd, Man City and Liverpool.
Ozil has once again come under severe criticism this week with former Man Utd midfielder Paul Scholes slamming the German international as not trying and not performing on the pitch.
Having already dispelled the myth about Ozil's perceived lack of effort last week, I'll now tackle the claim that he isn't producing the goods on the football field.
As you can see from the stats below, Ozil is in fact out-performing many of his main playmaker rivals from the other top clubs in the Premier League this season.
This comparison matrix from Squaka compared him to David Silva, Juan Mata, Philippe Coutinho and Oscar on eight key areas such as possession, pass completion, key passes, assists and chances created….all key components of any top class playmaker.
Ozil comes out on top in four categories; total score, possession, assists and surprising his duels won percentage. His nearest rival was Silva who topped two categories with Mata and Coutinho taking one each and Oscar failed to win a single category.
Ozil also came second in the other four areas of pass completion, key passes, chances created and successful take-ons. So he was in the top two for ALL eight categories.
Not bad for a 'flop' and a player that isn't even trying, eh? Just imagine how good Ozil would be if he tried!
So, where's the criticism of £42m Juan Mata? Perhaps Mr Neil Ashton (Daily Mail journo) should write an article about how he's stealing a living too? Maybe Scholes should look a little closer to home and have a pop at Mata?
All I've been reading lately is how Coutinho is 'world class'. Fair play, he scored a couple of great goals, but world class? A long way to go yet.  And Oscar? Great player playing in a great team, but he clearly flatters to deceive at times.
I said it last week and I'll say it again now; it's fashionable to hate on Ozil as he's an easy target due to his style of play and his relaxed attitude. The stats speak for themselves and Ozil is more than pulling his weight not only in terms of the amount of ground he covers each game, but also in his end product but doing what all world class playmakers should be doing – making passes, assisting and creating chances for his team mates.