Arsenal Table €40m Offer For Argentinean Hitman – Report
By
mac14
on February 17, 2015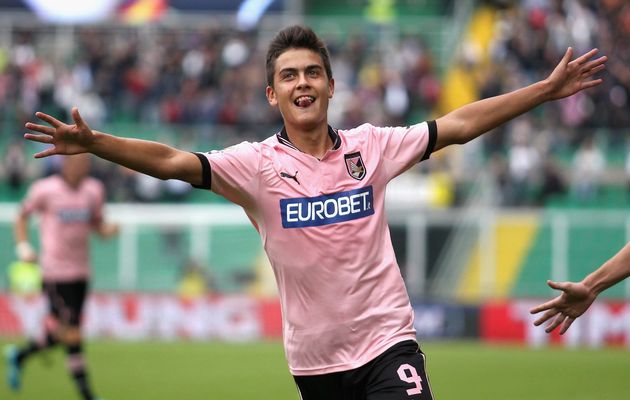 According to reports in Italy, Arsenal have stepped up their interest in Paulo Dybala after tabling a bid worth €40m for the Palermo striker.
Dybala has become one of the most sought after players in Europe after scoring 11 goals in 19 appearances so far this season.
Palermo were initially insistent they would keep hold of the 21-year-old but outspoken president Maurizio Zamparini confirmed last week that he's ready to cash-in on the youngster after he rejected their contract offer.
"We had an agreement with Dybala for 9million (euros a year) but the next day everything changed,"

"I was told that Dybala would no longer sign and that he now wanted up to 15million (euros) in wages. No way!"

"This is the fault of those that surround him. They have made him lose all sense of reality."

"I had treated him like a son having spent 12million euros to acquire him. I will not speak to Dybala again. I will appoint a company to negotiate Dybala's sale."

"I will sell him, I am almost certain of this." Zamparini told Sky Sports.
A number of clubs including Chelsea, Juventus and PSG have been linked with the Argentinean striker but reports emerged over the weekend that Zamparini was due to fly into London this week to hold talks with Arsenal.
It appears we've now stepped up our interest as the Metro are citing reports coming from Italian outlet corrieredellosport.it which claim we've now tabled a €40m (£30m) offer for Dybala's signature this summer.
It remains to be seen how accurate these reports are but it's been suggested that €40m would meet Palermo's asking price, so if we have offered that amount then there's a strong chance it will be accepted.
I've said before that I'm skeptical about our supposed interest as I really don't think another technical forward should be our priority right now and I can't see Arsene Wenger spending circa £30m on signing one this summer, but the rumours just won't go away.
Don't get me wrong, I'd be excited if we did sign Dybala as he looks to be a sensational prospect who's got a huge future ahead of him. However, even if we have tabled a €40m bid, there's still plenty of time for the likes of Chelsea or PSG to submit their offers and I just don't see Arsene being willing to go head-to-head with those clubs.
We'll have to see how all this develops over the coming weeks but my gut feeling is Dybala will end up somewhere other than Arsenal this summer.