Revealed: The Reason Alexis Sanchez Was Dropped vs Spurs & Villa
By
mac14
on September 30, 2014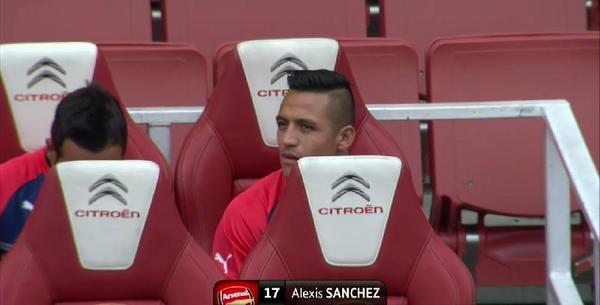 Many Arsenal fans were left scratching their heads in frustration when Arsene Wenger decided to leave Alex Sanchez out of the starting eleven to face Tottenham on Saturday.
The Chilean has enjoyed an impressive start to life in North London and had just scored scored a worldy free-kick against Southampton – which was his fourth goal in five games – with that strike following another stunning goal against Man City a couple of weeks ago.
However, Arsene decided to keep him on the bench with Alex Oxlade-Chamberlain preferred on the right wing when Spurs came to the Emirates at the weekend.
This was just a week after Sanchez was also left on the bench away at Aston Villa. That decision was a little more understandable, but it was certainly a strange call to leave our £32m signing on the subs bench against our North London rivals.
Some felt the boss had rested him ahead of the Galatarasay game while others speculated it was for 'tactical' reasons, but according to Goal the reason Sanchez didn't start against Villa or Spurs is because Arsene Wenger believes he holds on to the ball too long and slows down our play.
The report suggests that Arsene isn't happy with how Sanchez disrupts our passing game by lingering on the ball for too long, and there is also a concern that he is losing possession too often when receiving the ball on the half-way line with his back to goal which is resulting in dangerous opportunities for the opposition.
Goal claim that Arsene has decided to restrict Sanchez's game-time until he and his coaching staff have had time to drill our style of play into him on the training pitch.
I must admit, there are times when Sanchez has dwelt on the ball for too long when he should have passed or lost possession in a dangerous position, but I still don't think those are reasons to leave a world class talent like him out of such a big game.
He's a match winner. He can pull something special out the bag, as he showed against City and Southampton, so he should have started against Spurs if you ask me.
I do understand that Arsene has concerns that he's not quite adapted to our system yet, but that's to be expected. You could argue that Ozil's still hasn't adapted to our style of play but Arsene hasn't dropped him.
The upcoming international break isn't going to help things as Sanchez will go off with Chile for 10 days after Sunday's clash with Chelsea which will delay his adaptation period further, but let's hope he can settle in soon as he is one hell of a talent and is going to be star for the club. No doubt about it.