Preview Week Day 2: Midfield
By
mac14
on August 11, 2009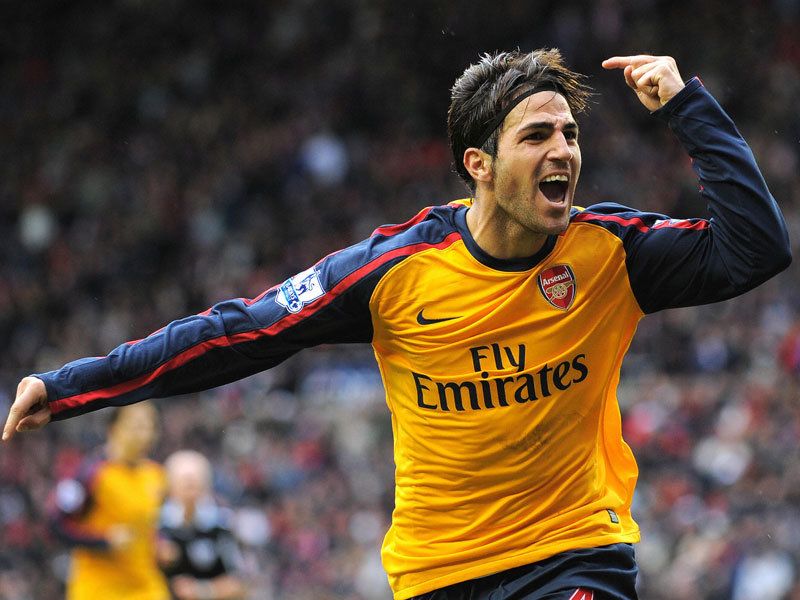 By BendyTheViking (Munich) –In less than a week, Arsenal travel up to Goodison Park to take on last season's fifth place team, Everton.  Starting at Everton and continuing throughout the entire season, Arsenal's midfield will be key in whatever success the Gunners have this season.  Given the new 4-3-3 system that Wenger seems intent on adopting this season, I will only consider those who will play in the first "3" as midfielders (with the exception of Jack Wilshere.) Therefore, both Theo Walcott and Andrei Arshavin will not be considered in this preview.
The Starting Three:
Injuries aside, Arsenal's starting three midfielders this season should be Cesc Fabregas, Samir Nasri and Alexandre Song.  Arsenal captain, Cesc Fabregas, will be looked to for both leadership and creativity in the middle of the park.  It appears that in this new formation, Cesc will have more freedom of movement, with the other two midfielders filling in wherever he is not.  Cesc will be allowed to play his customary deeper role, collecting and distributing the ball, as well as in a more advanced role, pushing in just behind our new trio of forwards.  Song, naturally, will be poised to fill the defensive midfield role.  Over the past two summers Arsenal have severely lacked ability and presence in this part of the pitch.  Just about every Gooner out there has been begging Wenger to buy a strong, experienced player for this position and with the closure of the transfer market looming ever closer the signing of this fabled DM seems more and more remote.
That being said, Alex Song has had a strong preseason in addition to showing vast improvement last season.  If he continues to develop on this track I have no doubt Song will grow into the defensive minded midfielder this squad needs.  However, he still remains young and mistakes will be made.  Regardless, he still remains a more attractive option then Denilson.  Finally Samir Nasri will play what I imagine will be the utility midfielder.  This comes after comments made both by Wenger and Nasri at the end of the last season where both seemed to think that Samir could add a defensive presence to his game.  Whether he has done this or not will certainly be up for debate and seeing as how he was injured the second day of preseason my guess as to his defensive abilities will be as well founded as the next guy's.  However, if he has added a bit more power and steel to his game I imagine he will be more of the box to box player of the trio.  He will be the one who rushes back to assist Song as well as the on who can push up in support with Fabregas.  I imagine Song playing more in the defensive half, Cesc more in the attacking half and Nasri as the link between them.
The Next Three:
Arsenal's second string midfield I imagine would consist of Denilson in the holding spot, Ramsey as the utility player and Rosicky (if, god willing, he can find some sort of fitness) playing in the advanced role.  Denilson, while no world class defensive midfielder, is still a quality squad player who is continuing to learn a new position.  He made visible improvements in his play last season and I expect him to continue to develop this season.  He is good at distributing the short ball and while some criticize his forward passing, Denilson isn't in the team to split defenses.  He plays the smart pass to the play-maker and goes about his job.  He is a hard worker and certainly puts in a good shift but he needs to become a bit more aggressive.  He seems to easily pushed off the ball and lacks the tenacity in the tackle that one would like to see from a midfield hard-man.  If Denilson can continue to grow and add a but more strength, drive and aggressiveness to his game this season then he will prove invaluable when Song leaves in December for the African Cup of Nations.
Rosicky.  What else can we really say about Tomas Rosicky? He is an amazingly talented footballer, everyone knows that, but he has struggled with fitness.  His recent set back can hardly be thought a surprise.  After a long lay off, small muscular injuries were always going to happen.  However, if he manages to make a full recovery he will be able to step in and add a bit of experience to the midfield and give Cesc a break every once and a while.  Finally Aaron Ramsey is a player I am looking at to make a massive step up this season.  In pre-season we can already see how he has grown as a man and a player from the start of last season.  He looks bigger, stronger and more driven then ever to break the Arsenal first team.  He is a box to box type player, one who will rush back to help protect the goal, as he did against Valencia.  In addition he can pick out the killer pass and get up the pitch when Arsenal have possession. He increased size and power make him a better defender and a better tackler and he is certainly a player who can roam the midfield and fill in where needed.  I expect Aaron to play much more this season and start to really make the boss think twice before he pencils in the starting XI each week.
Others:
At the top of the "others" list we have Arsenal's other "OH NO!" player: Abou Diaby. Simply, a frustrating player.  Absolutely brilliant at times and capable of producing moments of absolute class but frustrating most of the time.  He is a big, strong, imposing figure and if he could just figure out how to tackle and stay focused he could be a force in our midfield but his inconsistent displays hardly warrant him a starting or even secondary place in Arsenal's midfield.  Diaby, to put it simply, doesn't have the brain to be at Arsenal.  I do not expect much from him at all this season and I imagine his Arsenal career is currently living on borrowed time.  Fran Merida is another option at central midfield. There were reports last week about a possible loan move back to Spain for young Fran but the Spaniard participated in Arsenal's final preseason fixture and an official announcement of a loan is yet to be made, so for all intents and purposes he remains an Arsenal player.  He is a player who will see a bit more action, limited mostly to cups and the odd league fixture.  Fran is clearly a talented player but he lacks experience and maturity.  The boss has always indicated that Fran is a late developer and I believe patientce will be the name of the game for him this season.  He will get a few chances but he just isn't on the level of some of the other players yet. However, if called upon for a game or two, I believe Fran could do a good enough job.  After that there are a few youngsters from the reserve team who will surely be given a run in the cup games.  The likes of Henri Lansbury, Francis Coquelin and Jay Emmanuel-Thomas will all be given runs out in the Carling Cup and perhaps the odd FA cup appearance but the first team contribution of these three players will surely be limited.
Jack Wilshere:
Wenger has said numerous times he sees Jack as a central midfielder, perhaps playing the Fabregas role in our new 4-3-3 at some point, but, due to his youth and size, he has mostly been used during the preseason on the wings.  I can only assume this will persist throughout the season especially in the Premier and Champions Leagues as Wenger looks to blood Jack into the first team.  In the Carling Cup however I would not be surprised to see Jack used in more of a central midfield role.  Regardless of where he is played there is no doubt in anyone's mind that Jack will, someday, become a massive player for Arsenal.  For the second preseason in a row he has stolen the show.  As a reward last summer he was given the number 19 shirt and also his Premier League and Champions League debuts. becoming the youngest Arsenal player to ever play in either competition. This season I expect Wenger will have more planned for him, especially after his magic display at the Emirates Cup.  I fully expect Jack to play many more minutes for the first team this season and to make some sort of an impact (but perhaps not the one many English periodicals seems to think he will make.)  Jack is a talented player and will add a lot to Arsenal even this season but it must be kept in mind that he is still only 17 years old and due to his youth and lack of experience his displays will not be consistent.  We must show a willingness to be patient with Jack and encourage the young man in his development.  If we can do this, I believe Jack has the ability and potential to deliver both this season and for many, many seasons to come.
If you haven't already, check out yesterday's preview of Arsenal's Goalkeepers and Defense. Tomorrow, ArsenalStation, himself, will take a close look at Arsenal's strikers.  Thursday, I will have our Carling Cup preview (along with HQ highlights of both memorable matches from last year's tournament) and, on Friday, we will conclude with our overall preview for Arsenal's 2009/2010 campaign as well as a brief look at our potential rivals (including HQ highlights of our best matches with the rest of the Big 4 from last season).