The "Superior Level" of Phillipe Senderos
By
mac14
on July 23, 2009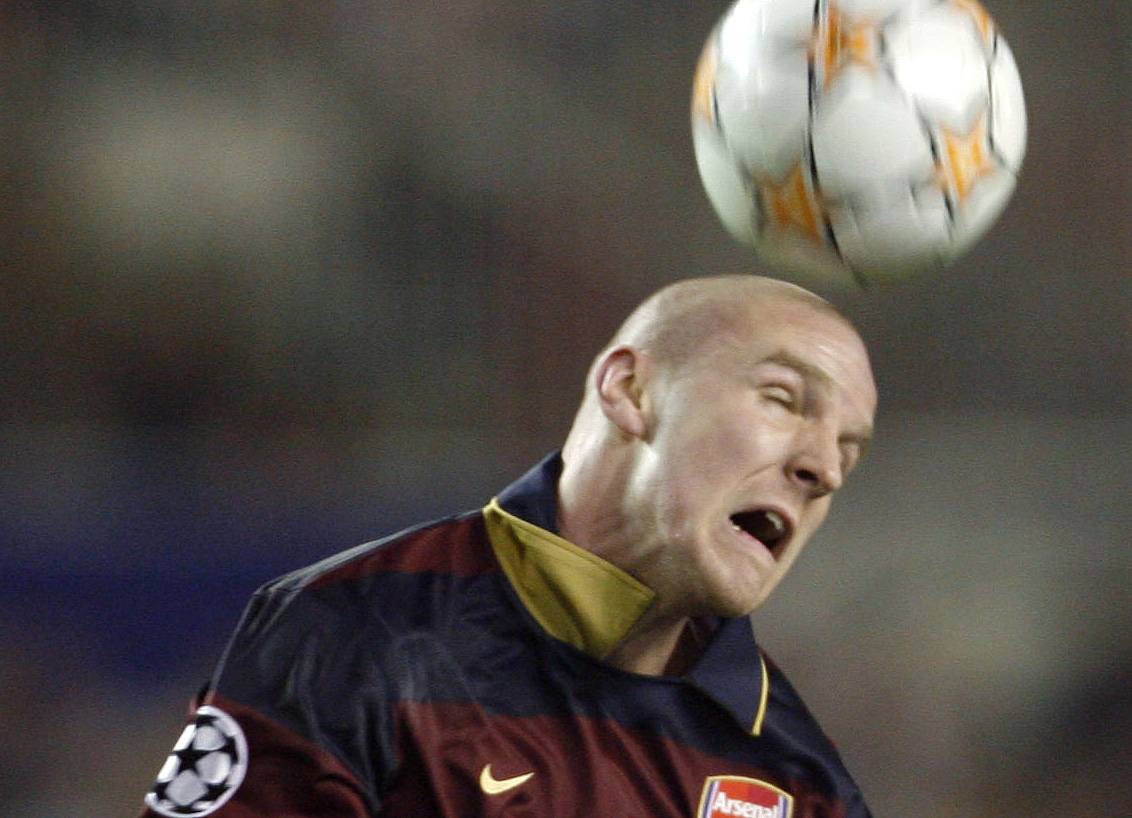 As the Austrian tour continues and the preseason apex, the Emirates Cup, quickly approaches, at least one man's future with the Arsenal is still very much in doubt. Phillipe Senderos joined Arsenal as an eighteen year-old from Swiss club, Servette, in the summer of 2003 for an undisclosed fee rumoured to be around £2.5m. He made sporadic appearances through the 2004-05 campaign before becoming a semi-regular in the club's final year at Highbury due to Sol Campbell's recurring injury problems. It was with Senderos, paired with Toure, at the back that got Arsenal to the Champions League Final in Paris in May 2006 on the back of an amazing defensive run. In the first two group matches, Arsenal conceded in back-to-back 2-1 wins home to FC Thun and away to Ajax. They would go on to finish the group stage and survive three knockout rounds against Real Madrid, Juventus, and Villareal without conceding again, and Big Phil was at the heart of it all until an injury forced him to miss both the second leg at Villareal and the Final. Heading into the 2006-07 season, it looked like it was time for Senderos to solidify his place in the starting XI, but the subsequent Ashley Cole-situation saw William Gallas join the club. Injuries, including a shoulder problem from the World Cup, plagued him throughout much of the 2006-07 campaign, and, when William Gallas was made captain in the summer of 2007, Senderos believed he had seen the writing on the wall.
After apparently being considered as a possibility for the captaincy in 2006, Senderos was back to the Carling Cup. However, in early 2008, Senderos was back in the starting lineup as Toure was away for the ACN and Arsenal put together a solid run through January and early February cementing their lead at the top of the table. He's always been prone to making errors, having earned the nickname "Blunderos" amongst a certain section of the support. That is not so much out of the ordinary for a young centre-half. But his gaffes against Liverpool in the Champions League Quarterfinal seemed to leave an especially bad taste as the final nail in the coffin on a team that had begun collapsing long before Liverpool. In the summer of 2008, with his displeasure at the situation well known, Milan came knocking for the Swiss international. Sort of. With the return and semi-emergence of his international partner, Johann Djourou, Senderos happily agreed to a year-long loan deal to Milan with an eye to an eventual £6m move. But Senderos never really impressed at Milan and, after dealing with injuries early on, saw only 15 appearances. Despite making known his desire to remain at the San Siro, he was allowed to return to Arsenal this summer.
I must admit that in the beginning I did not begrudge his desire to move in a bid to play regularly. I have always assumed that the errors would dissipate with age and experience. We had already seen him perform successfully at the highest level in the Champions League. So when Milan came in, especially for a loan rather than a transfer, I could understand his desire for the move. Yet, I will be honest and say that his comments upon his arrival in Milan left a more bitter taste in my mouth than any of his past mistakes on the pitch. Here they are:
I am really happy to play in a team like Milan. For me, this is a dream come true. In the past I have achieved some success….Today I can say I have reached a superior level by coming to this club.
Now, you may say, "What's so wrong with that?" Or "You have to say things like that when you join a new club." But that is a load of crap. Having already saw the ill-advised exits of Flamini for AC Milan and Hleb for Barcelona that summer, it was Senderos's words more than the actual move that disturbed, because, not only did it add salt to the wounds created by Flamini and Hleb's departures, but, it also encapsulated the way footballers seem to think about certain clubs. If you look at reality, he was joining a club that was preparing for the UEFA Cup and hadn't been a factor in the Serie A title race for some time and was leaving a club who had led the Premier League for most of the season, had knocked Milan out of the Champions League, and was coming into their prime rather than watching it in the rear-view mirror. How does just joining a UEFA Cup bound club, no matter who they are, make a player think he has "reached a superior level" just by joining the club. On loan, no less? It is a hold that history seems to have over the present. Clubs like Madrid and Milan were highly successful in the 80s and 90s, when modern footballers were growing up watching the game. To them, it seems recent results matter much less than those from 15-20 years ago. Senderos's comments are also meant to throw a reassuring bone to the Milan supporters
I know, this is nothing new and we see it all the time in football. But the lack of respect for Arsenal as a club amongst players continues to nag at me. We have one of the greatest stadiums in the world, possibly the greatest manager in the world, and in the last ten years we have set numerous domestic records in England. The problem, for me, so much is not an inability to draw big names to the Emirates, since we have shown we can draw big talents. The real problem is players that leave thinking the pitch is greener and the level superior at Milan or Madrid or Barcelona. We all know how that usually works out.
I had always doubted whether Big Phil would be able to return to the Emirates following those comments. But, I realized that most Arsenal supporters probably didn't pay much mind to those comments as we had far more pressing concerns at the time. As it stands now, the Austrian tour and preseason camp are basically a football purgatory for Senderos as he considers his next move. When asked about his future, the Boss said, "It's open. At the moment he is looking for solutions. He has many opportunities but he has to decide on his future." A Cultured Left Foot seems to think that this "sends a clear signal that he is not considered a part of the manager's long-term plans." But, to me, it seems more that Wenger has resigned himself to that fact that Senderos is not willing to stay and fight for a place in the team. Rumours have linked Senderos with moves to Hertha Berlin as well as Bordeaux in a swap deal for Arsenal stalker, Marouane Chamakh.